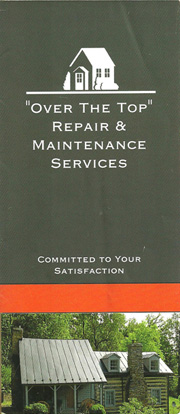 At Over The Top Management Services incorporated & Over The Top Repair & Maintenance Services, we realize that every customer is to understand your unique service needs, so that we can formulate the perfect solution for your choice. Whatever, your situation is we will help you make the right decisions to achieve your personal goals. Over The Top services incorporated & Maintenance services has over 35 years of experience. It would be our pleasure to offer you quality services at reasonable rates.
We work with the leading building suppliers in the industry so that you can get the best material in the market for kitchens, baths, basement remodels, roofing, decks,windows, doors, electrical and plumbing.
Give us a call today for your free same-day analysis!!!!!

Address
1439 W. 103rd St.
Chicago, IL 60643
Hours of Operation
Monday–Friday: 8:30am–6:30pm
Saturdays: 10:30am–3:30pm
Sundays: Closed
24-hour emergency calls
Phone Number
877-783-6007
Email Address
Payment Methods
Cash, Personal Check, Visa & MasterCard, Discover, AMEX, Diners Club
Parking
Parking Lot – Free
Additional Information
We are negotiable and we get the job done every time. So let's make this happen together